Our partners at GameStrat, America's premier sideline instant replay system, are constantly putting-out content to help high school football coaches around the nation. During the season, GameStrat always has a Game of the Week, however, since we're not in-season yet, today they present an Off-Season GOTW with 2019 Virginia Class 4 champ — Lake Taylor.
GameStrat.com
The GameStrat Replay of the Week is back with its first ever offseason edition!
We had the pleasure to chat with both Head Coach Hank Sawyer and Assistant Coach Sean Banks of the Lake Taylor Titans. Last year they led the Titans to an 8-2 regular season and rolled through the playoffs on route to becoming Virginia's Class 4 State Champs!
"It was a lot easier to use, a lot more user friendly"

Lake Taylor HC Hank Sawyer
Coach Sawyer first heard about GameStrat at the USA Football National Conference where he got a demo of the system to show him the advantages GameStrat would bring to his team. Coach Sawer was so impressed that he brought GameStrat back to his district and got every team signed up, and according to him everyone has been more than happy with the decision!
"I was the one that worked with Tunch to get all the teams in the city on it and they all agree that it's been so much better. A lot of them were using Hudl Sideline and they've been so much happier especially with just how fast it is and how fast we get the video."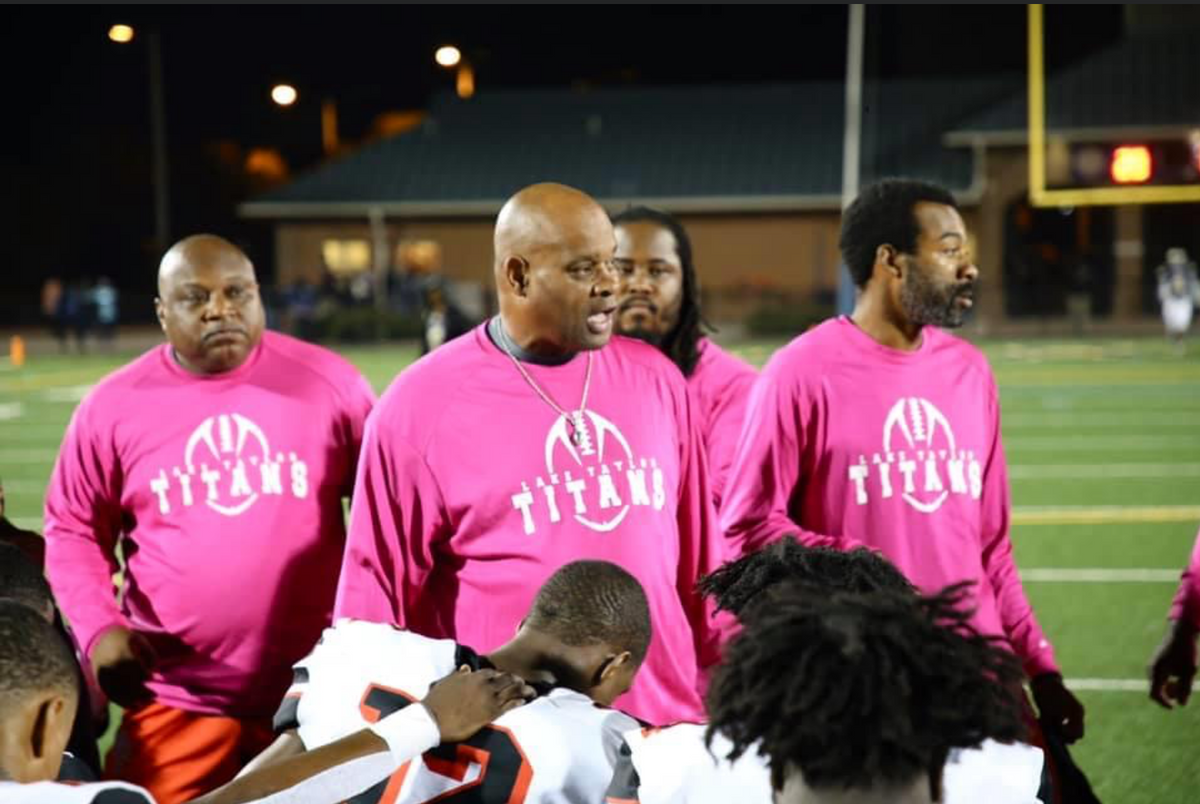 Before getting started with GameStrat, the Titans had some brief exposure into the world of sideline replay. They had tested out Hudl Sideline for 1 game the previous season but after seeing what GameStrat could do they never looked back.
Coach Banks added, "It was a lot easier to use, a lot more user friendly to the point that only one person can totally handle it and operate GameStrat"
Head Coach Hank Sawyer found a lot of use in GameStrat last season as well, "I was able to run things back and have a second look before I made a fool of myself, I was able to see it right before I said the wrong thing and when I saw the play, it answered all the questions I had about it."
"Now knowing that it exists there's no way I would go into a game without it."
He backed up Coach Banks' opinion too, "I was very pleased with it, to be honest. It helped us a bunch at halftime, it helped us when the kids would tell us one thing they were seeing and we would be able to show them what was really going on so they were able to learn on the fly!"
And after just 1 season using GameStrat it sounds like it's become a key part of Coach Sawyer's game day operations, "I wouldn't go into a game without it. After trying Hudl the year before and then seeing GameStrat and now knowing that it exists there's no way I would go into a game without it."
Coach Banks told a quick story about how pleased he was with the support he consistently received from GameStrat,
"I don't think enough can be said about the support, if we ever had any issue or question there was always someone available and we always got it worked out right away. There was a couple weeks there where we were calling at about 6:30pm and saying 'hey, what about this or that', and you guys were always able to help us get setup well before game time… We had 1 issue where we thought there was some interference because things were taking a long time to load, but we called in and were able to get the iPads and everything setup properly and we were good after that!… Overall we were totally pleased with GameStrat, whenever we had any problem we could call and get ahold of someone right then and there, and for us that was a real winner."